Walking Malcolm Saville's Country
---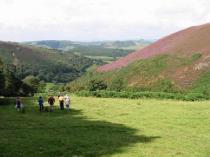 As another project within our "Next 25 years" programme, we are busy preparing a series of walks set in Lone Pine locations across the country.
We will be including shorter and longer walks, some familiar and some new, and we hope members will be encouraged to explore further the wonderful locations that Saville chose for the Lone Pine stories. The walks will include maps, instructions and references to all the connections in the books. They will be organised in a folder so readers will be able to take out walk details individually in order to follow them.
Later we will be adding walks in areas associated with other series - the choice is almost endless! If anyone is keen to help with this project, please let us know by using our Contact page to get in touch with the Joint Chairs.