Watch Treasure at the Mill on TV
---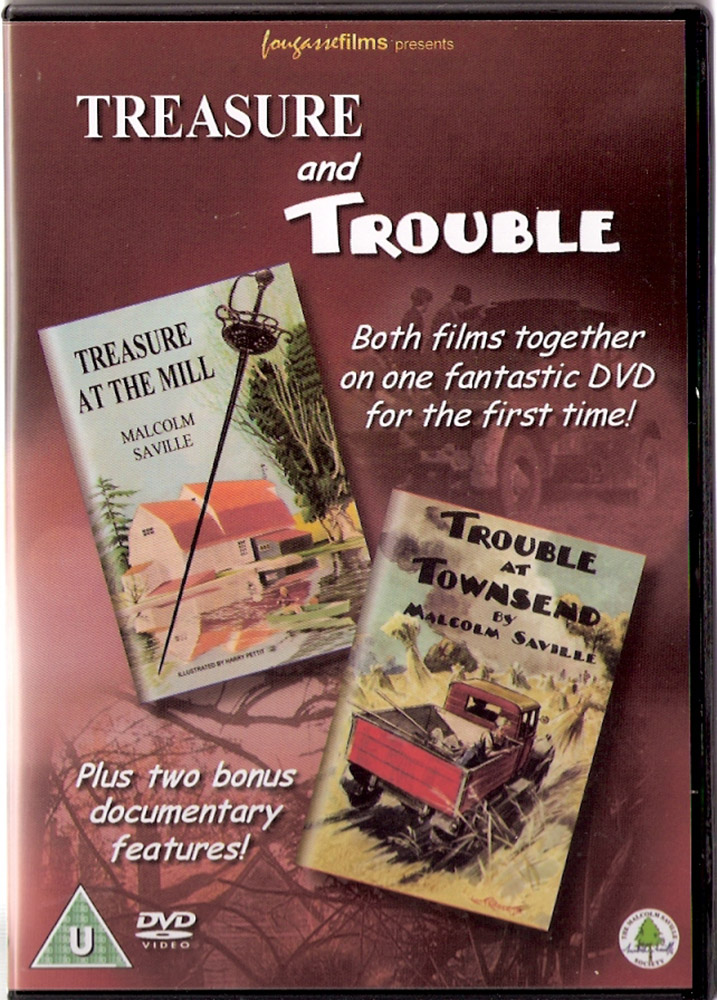 Treasure at the Mill is being shown on the Talking Pictures channel (free view 82) on Saturday 18 June at 10.15.
And copies of the film, along with Saville's 'Trouble at Townsend' (starring a young Petula Clark), are available from our Shop (on the Other Publications page) for just £8 for 2 films - and more!
In 2008 the Society launched the DVD of two films made from Malcolm Saville's stories. It can be played on any UK DVD player, any multi format player or on most computers.
Treasure at the Mill (1957)
A Children's Film Foundation film which featured the real life Pettit family and their home at Spring Valley Mill in Essex.
Trouble at Townsend (1946)
A Gaumont film which starred the young Petula Clark. Filmed at Malcolm Saville's home at Westend Farm in Hertfordshire
Plus...
A documentary film made in 2007 in which Merrilyn Boorman (Pettit) returns to her childhood home and talks about the making of Treasure at the Mill.
An introduction to Trouble at Townsend from Malcolm Saville's younger son, Jeremy, and a further film of his return to Westend Farm.
A ROM file, which can be played on a computer and which includes a wealth of background material on both films in PDF format.
Photographs from two Society visits to the film locations and from the documentary filming in 2007.
Extras
~ Harry Pettit: A view of his art.
~ Malcolm Saville by Mark O'Hanlon
~ Sunday Morning at the Pictures
~ The Story of Treasure at the Mill
~ Harry Pettit's illustrations for Treasure at the Mill
~ Return to Townsend Farm
~ The Making of the DVD
~ The Story of Trouble at Townsend
~ Lunt Roberts' Illustrations for Trouble at Townsend
~ Saville Pets
~ The Malcolm Saville Society
~ Photo Gallery
~ The Malcolm Saville Society's 2005 Treasure at the Mill weekend
~ The Society's visit to Hertfordshire in 2006
~ Filming the Treasure at the Mill documentary in 2007
~ Filming the Trouble at Townsend documentary in 2007